Chairman's Statement
Dear Valued Shareholders
,
On behalf of the Board of Directors ("the Board") of JEP Holdings Ltd., I'm pleased to present the Annual Report of JEP Holdings Ltd. ("JEP" or "the Comapny") and its subsidiaries ("the Group") for the financial year ended 31 December 2018 ("FY2018").
FY2018 was an eventful one and it marks my first year with the Group. As we worked relentlessly to streamline our operations to strengthen the Group's cost competitiveness, we also took steps to grow our core Aerospace business. The SMART factory initiatives taken in our Seletar Aerospace Park facility and closer collaboration with the UMS Holdings Ltd. and its subsidiaries ("UMS Group") are beginning to bear fruit.
The Group succeeded to increase its Precision Machining business by 5% in FY2018 in comparison with FY2017. We did some rationalisation of our product portfolio and I am pleased to report that overall gross margin increased from 12% for financial year ended 31 December 2017 ("FY2017") to 15% in FY2018. In the first half of FY2018, the Group suffered an operating loss of S$0.3 million. We turned that around to an operating profit of S$2.5 million in the second half of FY2018. For the full year of FY2018, the Group recorded a net profit after tax of S$2.2 million, up by 166% from S$0.8 million in FY2017.
We also took careful steps to manage the cash flow of the Group. The Group generated a positive operating cash flow of S$10.1 million and free cash flow of S$6.7 million in FY2018, a vast improvement in comparison with FY2017, which generated positive operating cash flow of S$4.9 million and negative free cash flow of S$4.6 million. The Group's borrowings reduced by S$6.1 million during the year.
With the encouraging success and renewed confidence, the Group acquired the remaining 15% equity of our previously loss-making subsidiary. JEP Precision Engineering Pte Ltd, to better manage its operations and benefit more directly from its success.
Cost Optimization
JEP takes pride in its strong engineering capabilities, state of the art production machinery and SMART factory automation technologies in its Singapore facilities. To sharpen its competitive edge, it is important that the Group move towards operation model that can lower overall costs and bring stability to its work force.
During the year, the Group's Equipment Manufacturing business unit took the lead to move some labour-intensive work to Penang, Malaysia and came back with good results. We now plan to move some less complexity work of the Precision Manufacturing business unit to Penang. The Seletar Aerospace Park facility in Singapore will remain as its head office and focus on complex and high value-added work.
Outlook
The large orders backlog faced by major Aircraft makers such as Airbus and Boeing today signify the positive outlook of the aerospace parts and components manufacturing market. The growth potential of aero-manufacturing market is strong as the Aircraft makers and first tier suppliers consistently increase the amount of work that needs to be outsourced in order to reduce costs as well as to focus on their own core business and speed up the production to meet the demand. The Group aims to expand our product offering to existing and new first tier suppliers.
Even though, oil prices has made its gradual recovery, and the semiconductor equipment market still contain much uncertainties currently, the Group remains confident of their medium to longer term prospects and is optimistic that there are opportunities available in these segments and will continue to monitor closely.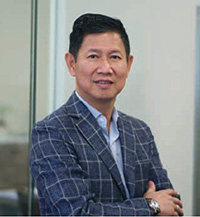 Acknowledgements
I would like to thank our fellow Board members for their invaluable advice and guidance throughout the year. On behalf of the Board, I wish to express my heartfelt gratitude to our management and staff for their dedication and hard work in collectively nurturing the Group to where we are today, as well as our business associates, partners, suppliers and customers for their generous support over the years.
To our shareholders, we appreciate your support and belief in our business. We aim to continue to achieve better financial and operational performance.
"FY2018, the Group recorded a net profit after tax of S$2.2 million, up by 166% from S$0.8 million in FY2017."
Mr. Luong Andy
Executive Chairman and Chief Executive Officer
JEP Holdings Ltd