Chairman's Statement
Dear Valued Shareholders
,
On behalf of the Board of Directors of JEP Holdings Limited, I am pleased to present the Annual Report of JEP Holdings Limited and its subsidiaries (the "Group") for the financial year ended 31 December 2019 ("FY2019").
When I was appointed as executive chairman and acting chief executive officer on 1 Jun 2018, I had a great determination to put the Group on a stronger growth path to exploit potentials in global aerospace sector and turn the business around within the next 18 months. With relentless support and hard work from team members, we restructured the business with proactive streamlining of its operations over the period, the Group posted S$6.5 million profit after tax in FY2019. We have never achieved this kind of result in the past.
Diversification
To achieve sustainable growth, we diversified our revenue streams to have a healthy mix of recurring and variable incomes. The Group built a solid well-diversified customer base, services and products portfolios instead of overly-dependent on certain product portfolios. We aim to differentiate ourselves from our competitors by offering "one-stop shop" solutions instead of limiting ourselves to machining and metal fabrication. We intend to leverage on the expertise and knowledge of JEP with UMS Group.
Cost Management
The customers have only one key thing in mind, and that's the price. Today, we are facing competition across the globe. Cost management plays a vital part to keep the Group to stay ahead of competition. We need to achieve this without compromising on product quality and safety, and our supply chain. The Group has started to streamline its operations in the 4th quarter of year 2018 by moving more labour-intensive work from Singapore to Malaysia and conducted a string of cost cutting exercises. The Group achieved good results from these exercises with the Group's gross margin in FY2019 improved to 18% from 15% in FY2018.
New Technology
The Group continues to brand and market Singapore as its head office, with focus on high value-added work and as the support hub for marketing, servicing, logistics and engineering. The Group continues to make efforts to upgrade its state-of-art machinery for manufacturing, resilient engineering skills, process solutions, and technology advancement to compete globally and to put ourselves in a prime position to seize new business opportunities. The Group has also set aside a capital investment budget up to S$5.0 million annually to modernize its plant facilities. This budget will explore acquisition of new technology and process solutions to enhance the Group's capabilities to offer additional complex process solutions to existing and potential customers.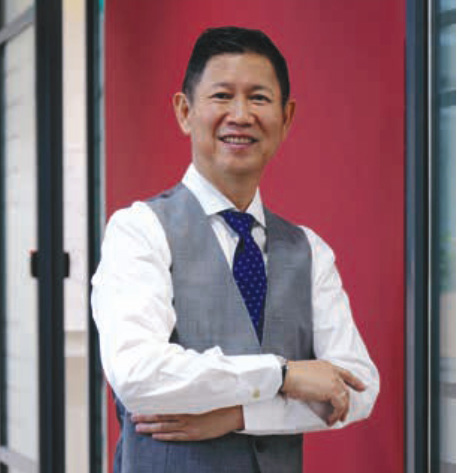 Outlook and Prospect
The COVID-19 outbreak is exacerbating the already languishing economy on the back of economic and geopolitical uncertainties. The aviation industry is not spared from this environment. However, the Group believes it has strong fundamentals and financials to tide through the expected reduced economic activities and revenues. The economic downturn might be good time for the Group to expand and diversify its businesses through strategic acquisitions and collaboration.
Mr. Andy Luong
Executive Chairman and Chief Executive Officer
JEP Holdings Ltd